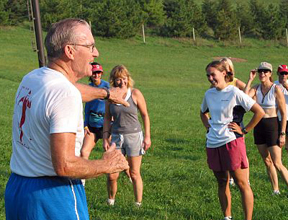 The 2011 Minnesota Nordic Ski Association Lifetime Achievement Award will honor long-time racer, skiing advocate, and infamous leader of hill-bounding sessions, Bjorn Lasserud. Bjorn and other Minnesota skiers will receive their awards at the MNSAwards banquet on April 2nd. Click here for details and to reserve your tickets.
Selection committee chairman, Darby Nelson, spoke with Bjorn recently and offers this biographical sketch:
Bjorn Lasserud was born in Norway. As a teenager he participated in youth soccer and also did ski jumping. Surprisingly, he did not participate in cross-country skiing until he and his wife, Anne-Lise came to America. Bjorn acknowledges a drinking problem during those early years. He resolved to quit, but needed an activity to keep his mind occupied and alcohol at bay. He began running and met a man who asked him what sport he was training for. Bjorn said he wasn't training for any sport. The man said, why don't you ski with us? He got a pair of used skis and became acquainted with Norm Oakvik. That made all the difference.
He has gone on to become one of the most storied master skiers in Minnesota history. Bjorn's trophies fill the walls of more than an entire room. He has excelled at every level including national master's championships as well as international competitions, finishing second in the Norwegian Birkebeiner. He is most proud of winning the World Master's Title.
Bjorn has made significant contributions to cross-country skiing in Minnesota. Starting about 1965, he and Norm Oakvik established training sessions at Theodore Wirth Park in Minneapolis. Eventually the fall training group shifted to Hyland Park where seventy to eighty people began showing up. One of Lasserud's most endearing qualities is his willingness to help beginning skiers improve. Uncountable numbers of novice skiers, struggling awkwardly down the trail, have been approached by this man with the Norwegian brogue who would ask, "Can I help you?" Bjorn is a one man ambassador drawing others into his sport. Bjorn was also heavily involved with the Minneapolis Ski Club, a cornerstone organization in the early development of cross-country skiing. Bjorn did much coaching for the club. Bjorn also helped with the Ski For Light program that brought blind skiers from Norway to Minnesota. Lasserud helped blind people learn to ski in the program for three years. Bjorn says, "Skiing has made me a better person. It is the best sport there is." He feels helping others is his way of giving something back to the sport that has meant so much to him.
Bjorn Lasserud has been an outstanding contributor to Minnesota skiing and is a most deserving recipient of MNSA's Lifetime Achievement Award.
[Editor's note: Biographies of other recipients of the MNSA Lifetime Achievement Award will be posted in an online archive soon. – MB]
You can follow any responses to this entry through the RSS 2.0 feed. Both comments and pings are currently closed.