John Holmquist
1928 – 2016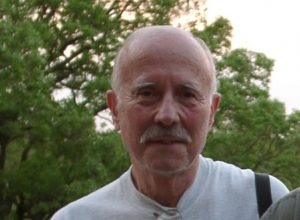 Long-time North Star Ski Club Member and American Birkebeiner Founder John Holmquist passed away on November 19,2016 after a lengthy illness.
The following tribute is provided by the North Star Ski Touring Club.
==============================================================
John Holmquist, who served as our president from 1984-86 and held numerous other board positions over the decades, passed away peacefully on November 19, 2016 after a lengthy illness. His death is the latest as we mourn the many longtime members who have left this earth in the past year: Bob Tokar and Leslie Hollister (both former presidents), Bill Handsaker, Jack Toenigges, Glen Olson and Sally Duncan.
John, in spite of his diminutive stature, was truly a giant in our club. If Jinny McWethy was our beloved Mother North Star, John was our gentle father figure, both wise and soft-spoken, who steered our ship for decades and kept us on course. He loved to cross-country ski (indeed, he loved to race) and he had a passion for our club. He was the recipient of the 2012 Tim Knopp Award for his dedication to both skinny skiing and our club. In addition to his two years as president, John served on the board over the years as trips coordinator, special projects chairman, government liaison and esteemed Loype editor.
After skiing in his first VJC ski race in the early 1970s, John became addicted to racing and, at his peak, did one or two races a weekend. He also held the distinction of being a "Birkie Founder" — an honor given to those few who completed the first ten races of the American Birkebeiner from Cable to Hayward, WI. Each member of this elite group was given a racing bib with the word "Founder" clearly printed on the front. John did about 24 Birkies altogether before health issues forced him to retire from racing.
He was also, in the opinion of many, the finest and most gifted writer to ever grace the pages of the Loype. His writing seemed both effortless and flowing as it welcomed the reader into what John had to share. And what he had to share was always worth taking the time to read. Whether he was being impishly funny or deadly earnest, John just knew how to make his point in a warm and congenial manner. He was also one of the first people to be consulted when issues arose and we needed a steady, valuable voice in the discussion. His soft voice echoed loudly.
John had a passion for many things in life: skiing, biking, running, reading, gardening, a wide variety of music, and his beloved Prospect Park neighborhood in Minneapolis. He was a community activist who for many years edited the neighborhood newsletter. In later years he even took up tap dancing. An engineer by trade but a man who in his lifetime learned to wear many hats, John was often called by friends the closest to a Renaissance man that they had ever met. Can any man receive a greater compliment?
John's son tells us that a memorial service will be held, probably in the next couple weeks, at Prospect Park United Methodist Church. Once details are finalized, there will be an obituary notice in the Star Tribune and we will make an announcement in the e-Loype. The memorial service will be our opportunity to say farewell to a truly great man upon whom the foundation of our club is largely built.
Cards and condolences can be sent to: John Holmquist, 824 1st Street S, New Ulm, MN 56073
John's son has asked that we share the following statement with you: "I would just like to thank everyone in North Star for their years of friendship and camaraderie with my father. Skiing was his passion and he spent some of his happiest times on the trails and with his friends in North Star."
                                                                                                  XXX