As we head into the Winter ski season, and you purchase your Minnesota Nordic Ski Pass, please understand even with the small amount of revenue provided by your fee, our trail systems around the state would not exist without the countless hours put in my hundreds of volunteers.
Earlier this Fall we caught "Mark Stadem", president of the Brainerd Nordic Ski Club, in the act of mowing the French Rapids Ski Trail system. This trail is one of three Grant-in-Aid (GIA) ski trails in the Brainerd area managed by the Brainerd Nordic Ski Club. Click upon the image to get a full sized view!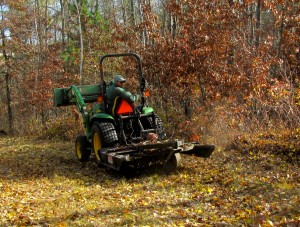 You can follow any responses to this entry through the RSS 2.0 feed. Both comments and pings are currently closed.